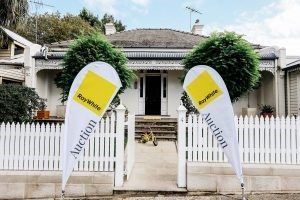 The 15 April 2019 portfolio comprised properties in Sunnyhills, Half Moon Bay, Bucklands Beach, Howick, Cockle Bay, Mellons Bay, Northpark, Flat Bush and Burswood. As detailed in our report last week, we again attracted both bidding buyer interest and interest from conditional buyers who, for various reasons, had not been able to meet the unconditional requirements of an auction For Sale and Purchase Agreement.
The Headsail room of the Bucklands Beach Yacht Club, the home of Ray White Auctions, once again enjoyed a very pleasing attendance. This included people who had registered buying interest, those who had expressed conditional buying interest and those who came along to see what is selling and for what price, to give an idea of what is happening very currently in the real estate market.
Highlights of "under the hammer" competitive bidding sales included:
8 Angelo Avenue – $920,000
2/ 360 Bucklands Beach Road – $695,000
50 Alexander Street – $1,055,000
7 Shenton Place – $918,000
Immediately post auction, 53 Paparoa Road was sold after a multi-offer presentation.
11 Annagary Rise attracted good bidding interest followed by post auction offers to the vendors in a multi-offer presentation and negotiations are continuing. Many properties within the balance of the portfolio have attracted post auction offers for vendor consideration and negotiations continue with these in an endeavour to achieve a sale price satisfactory to vendors.
There are always various reasons why potential buyers cannot meet the terms of an Auction For Sale and Purchase Agreement which is a totally unconditional agreement. However, as stated above, we try to work with these potential buyers to attract the best conditional sale for our client vendors.
The goal of our Auction Marketing Programme is provide our Vendor clients with an unconditional sale or, after three weeks of marketing there is a base to work with conditional buying interest if unconditional buying interest is not achieved at, or immediately post auction.
It is also important to note that some vendors are not always able to accept buyer expectations of price for various reasons. However, auction marketing is a very positive way of testing the market in a defined space of time to determine if the buyers price will enable them to make the lifestyle/property change they envisage.
The unexpected decision by the government not to proceed with a capital gains tax may stabilise buyer confidence. However, the forthcoming budget will also influence buyer confidence and decision making.
As a foot note, I keep an eye on Australian trends through reports published by Williamsmedia, which this week reported: CoreLogic analyst Kevin Brogan said "What we are seeing is a bit of stability across the market, in comparison to the end of last year when there was a real dropping off of clearance rates." REINSW President Leanne Pilkington said agents were happy with the pre-Easter figures. "With Easter next weekend, agents are expecting much lower numbers, but continue to be happy with the consistency in results, despite lower transaction numbers," she said
Ken Ralph
Auction Services Manager