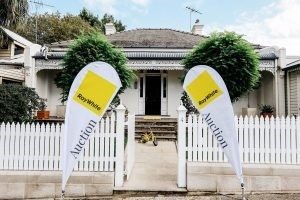 An Auction selling strategy provides the opportunity for vendors to achieve a totally unconditional sale, however, not all buyer interest can register to bid, due, to not being able to meet the unconditional standard required. Often not moving with enough time to qualify to bid on an unconditional basis is the exclusion factor, however, conditional buyer interest allows us to complete post auction sales for our vendors.
Our 19 September portfolio was a case combination of unconditional and conditional buyer interest with competitive bidding resulting in sales "under the hammer "for those who were unable to register for an unconditional sale.
As highlighted in recent reports there is clear evidence that buyers are now confident in the value of current listings, and therefore in their decision to buy, now, focused on their requirements for the new year, be that for schooling requirements, size of home or lifestyle. Our Eastern Beaches area offers buyers quality real estate options and quality buying real estate assets.
Again, it was our pleasure to welcome a pleasing attendance to the Headsail room of the Bucklands Beach Yacht Club, the home of Ray White Auctions. Those attending included people who had registered bidding interest, those who had expressed conditional buying interest and obviously those who came along to see what is selling and for what price to give an idea of what is happening very currently in the real estate market.
The portfolio included quality properties across our residential areas of Pakuranga, Half Moon Bay, Bucklands Beach, Howick, Highland Park, Huntington Park, Dannemora, East Tamaki, Flat Bush.
It was so pleasing to see vendors achieving excellent sale results that allowed them to move on to enjoy their current requirements and buyers delighted to have the opportunity to buy quality properties, or vendors finding a very accurate buyer driven price indication.
It was also evident that being able to place properties "on the market "to sell "under the hammer" was the key factor in vendors being rewarded with a pleasing final bid price.
Highlights throughout the evening:
8 Kilbaha Close East Tamaki attracted competitive buying interest for a, brick and tile, newly renovated family home surrounded by a 516m2 section. The floor plan provides family living with 3 bedrooms. After some 17 competitive bids its sold "under the hammer "at $1,357,000
7 Canobie Place Dannemora/ East Tamaki Heights attracted pre auction buyer offer interest, however, the vendor decided to keep to the designated auction date, a decision well vindicated by the bidding interest. Excellent presentation throughout the one level floor plan that provides lounge living just separate to the family/ dining / kitchen floor plan space with 3 bedrooms, 2 bathrooms. Attractive landscaping enclosed outdoor living. A popular school zone neighbourhood address was also a key factor. The property was placed "on the market to sell "at $1,480,000 however, with a total of 38 very competitive bids it eventually sold "under the hammer "at $1,522,000
1/ 45 Larne Avenue Pakuranga offered buyers a more traditionally constructed weatherboard and tile home with an equally traditional floor plan layout that provides 3 bedrooms. A popular address with access to popular schooling under pins affordable family buyer position priority. After some 10 competitive bids its sold "under the hammer "at $850,000
14 Essington Place Half Moon Bay offered buyers an opportunity to move into a sought after Half Moon Bay cul de sac neighbourhood. This brick and weatherboard 3-bedroom, 2-bathroom home is surrounded by a 789m2 section. This home radiates a lot of appeal with its 2-level floor plan design, living room options and estuary views. Outdoor living was also a feature with street frontage landscaping and rear decking joining a large garden gazebo for very private outdoor living.
Negotiations between the highest bidder and vendor resulted in an increased bid to $2,200,000 and a bid price which enabled the property to be placed "on the market to sell "and therefore a sale "under the hammer "at $2,200,000.
10A Gwenand Place Highland Park offered buyers a 2-level floor plan home that provides 5 bedrooms, 3 bathrooms and utilisation options. From this popular Highland Park address this home provides wide urban views as far as Sky Tower. It also sold "under the hammer "at $1,490,000.
5 Saida Place Huntington Park offered buyers a one level brick and tile clad home surrounded by a 548m2 section. Immaculate presentation followed the 3 bedrooms and combined indoor living that opened to a definite highlight of the floor plan, a large conservatory room, that linked the indoors with the section outdoor living. Post auction negotiations have resulted in a sale for our vendors.
Other properties within the portfolio attracted bidding but not to a price point to allow a sale during auction, so, we continue to work with these buyer interests plus the balance of the portfolio, which while attracted buying interest, were not able to register to bid on an unconditional basis. We continue to work with all interests to secure a sale that is satisfactory to our vendors.
So, after three weeks of marketing, extremely pleasing, positive, response to the three weeks of marketing. A market confidence result, however, it needs to be acknowledged that the sales provided buyers with an opportunity to buy quality real estate assets knowing that while having to competitively bid/ buy to be the "winner" they were bidding/buying property that was also the first choice for a number of other buyers.
The excellent prices achieved confirmed our ability to maximise price for our vendors, however, to achieve such results, buyer interest, working with our mortgage broker partners, bidding registrations and actual competitive bidding are the components to achieving great results.
Ken Ralph
Auction Services Manager