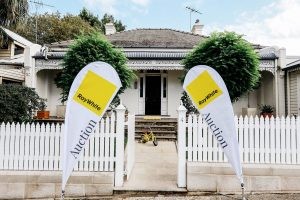 A wide variety of property was offered for sale in the 7 May portfolio, demonstrating the excellent choice buyers enjoy in this Eastern Beaches area due to the standard of housing, variety of different types of property and position factors from waterfront to lifestyle.
As we have reported during recent weeks, the number of people that have been attending each week, apart from our vendors and those who have registered to bid, is testimony to the interest in "what is currently happening" to the real estate market.
Pleasing bidding for two properties in particular and sale prices was a feature of the evening which meant that those vendors achieved an unconditional sale.
An unconditional sale is the prime aim of an auction marketing programme; so while we may not always achieve a sale "under the hammer", negotiations immediately post auction can achieve the aim of achieving an unconditional sale or the best conditional sale.
Under the hammer sales were as follows:
8B Borrowdace Avenue – $720,000
10 Cyclades Place – $1,488,000 (after some 25 bids)
54 Cheriton Road – $1,295,000
10 Leneford Drive – $860,000
2/341 Pakuranga Road – $572,000 (after some 22 bids)
We recognised two properties that were sold prior to this auction date due to unconditional offers that were presented to vendors and accepted subject to all interested buyers being given equal opportunity to buy.
6/ 10 Clovelly Road was sold appreciatively in excess of $2 million dollars
41 Nelson Street – $1,300,000
2/ 2 Regia Close was sold post auction with an unconditional sale.
13 Artisan Place has received a conditional sale.
We are still negotiating post auction for the balance of the portfolio, to try and achieve vendors price expectations.
There are always various reasons why potential buyers cannot meet the terms of an Auction For Sale and Purchase Agreement which as we have noted is a totally unconditional agreement, however, we try to work with these potential buyers to attract the best conditional sale for our vendor clients.
Ken Ralph
Company Auctioneer