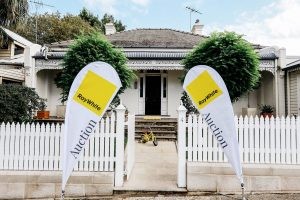 A wide variety of property was again offered for sale in the 14 May portfolio and a further reminder of the excellent choice buyers enjoy in this Eastern Beaches area due to the standard of housing, variety of different types of property and position factors from waterfont to lifestyle.
As we have reported during recent weeks, the numbers of people that have been attending each week, apart from our vendors and those who have registered to bid, is testimony to the interest in "what is currently happening" to the real estate market.
Pleasing bidding for four properties resulted in "under the hammer" sales which meant that those vendors achieved an unconditional sale. An unconditional sale is the prime aim of an Auction Marketing Programme, so , while we may not always achieve a sale "under the hammer", negotiations immediately post auction can achieve the aim of achieving an unconditional sale or the best conditional sale.
Under the hammer sales were as follows:
1/3 Whiteacres Drive – $706,000
2/ 34 Heathridge Place – $755,000
1/10 Aronia Way – $672,000
8 Billabong Place was sold "under the hammer" for $ 1,138,000 prior to auction due to unconditional offers that were presented to vendors and accepted subject to all interested buyers being given equal opportunity to buy:
Two days after auction date we secured sales for :
8 Lilybank Crescent
32 Waterloo Street
14A Walter McDonald Street
So a very pleasing result for our vendor clients, an excellent clearance rate, after three weeks of marketing.
We are still negotiating post auction for the balance of the portfolio, to try and achieve vendors' price expectations.
There are always various reasons why potential buyers cannot meet the terms of an Auction For Sale and Purchase Agreement which as we have noted is a totally unconditional agreement, however, we try to work with these potential buyers to attract the best conditional sale for our client vendors.
39 Priestley Drive Bucklands Beach – the auction date for this property was brought forward from its 6 June scheduled auction date, due to an unconditional offer that was accepted by our vendor subject to the auction date being brought forward and giving all interested buyers equal opportunity to buy. Six buyers had registered bidding interest. A large crowd for one property witnessed the bidding opening at $1,200,000 and after 12 bids selling "under the hammer" at $1,360,000. The demand for a sought-after school zone neighbourhood was quite evident.
Ken Ralph
Company Auctioneer